Recently, a 3D printed house went on sale in New York, first of its kind. Pretty remarkable, but it's still considered a novelty and must overcome several barriers before successful market adoption.
The additive manufacturing industry is advancing at an incredible pace and technology improvements, material capabilities, use cases, competitors and adoption are at an all-time high with no signs of slowing.
According to a collection of reports compiled by AMFG, the anticipated annual growth rate until 2023 is anywhere between 18.2 - 27.2%. What was once a $3 billion industry in 2013 may exceed $30 billion in just a decade. This is driven primarily by major industrial players operating in North America, Europe and Asia. As adoption increases, so does the need for scalable technology that can solve the problems of today and tomorrow. As an industry we have historically looked at speed and reliability as major requirements, but recent data suggests that size has become a very important factor to industrial manufacturers, product developers and designers.
Size Matters
There are large format 3D printers available today that are being applied to a variety of industries and applications. For example, fabrication facilities and foundries are integrating larger printing technology to create new casting patterns that are more precise and cost effective. These foundry patterns can range from 100,000mm2 up to 400,000mm2 and are typically built through a manual process that is imperfect and expensive.
Being able to digitally design and 3D print with repeatable results continues to be a distinct advantage. The concept of large in this market is determined by application, and the one size fits all approach does not apply. Below is a list of the prime examples and industrial use cases to further justify what may work for you.
Large Parts
This is highly relevant for automobile, transportation and aerospace manufacturers. Engineers in these industries design all sorts of products, prototypes and tools that can benefit from a large platform 3D printer. For example, a luxury car designer wants to create custom bucket seat options for premium customers who are eager to personalize their vehicles.
Building a human-sized prototype seat would typically require multiple 3D printed parts that must be bonded or welded, and if the tolerance is off on one print then the whole part needs to be redone. Large format 3D printing solves this unique problem by simply starting and finishing the entire part during one print. In addition, this technology has proven to be a useful manufacturing tool for production lines. Train and plane manufacturers work with very large and heavy frames, chassis and doors during the assembly process. Although most of this can be automated with industrial equipment, some of it requires manual labor due to complexity or lack of resources.
Many industrial manufacturers are building custom jigs, fixtures and manufacturing aids to enhance the worker environment and improve efficiencies. These are oftentimes paired with scanning and reverse engineering technology, which tends to be a successful and safe application of large format 3D printing.
Car Production Tool for Positioning in Assembly at Ford
Batch Part Production
3D printing is quickly gaining notoriety as a production tool that will improve manufacturing independence. The global supply chain is shrinking, and antiquated methods of overseas production are becoming a thing of the past. This is apparent for many consumer products, electronics and medical device manufacturing companies who cannot operate with long lead times.

The beauty of large format 3D printing is not just for large parts but for batch production parts. Why not fill up a build tray with 10, 50, 100 or 1,000 parts and print them overnight? Oftentimes referred to as on-demand manufacturing, this enables product development companies to immediately provide products to their customers. This reduces the need for warehousing and eliminates logistical nightmares associated with overseas transportation. As companies begin adopting the digital warehouse concept, they will continue to embrace large format 3D printing as an advantageous way to enhance customer relationships.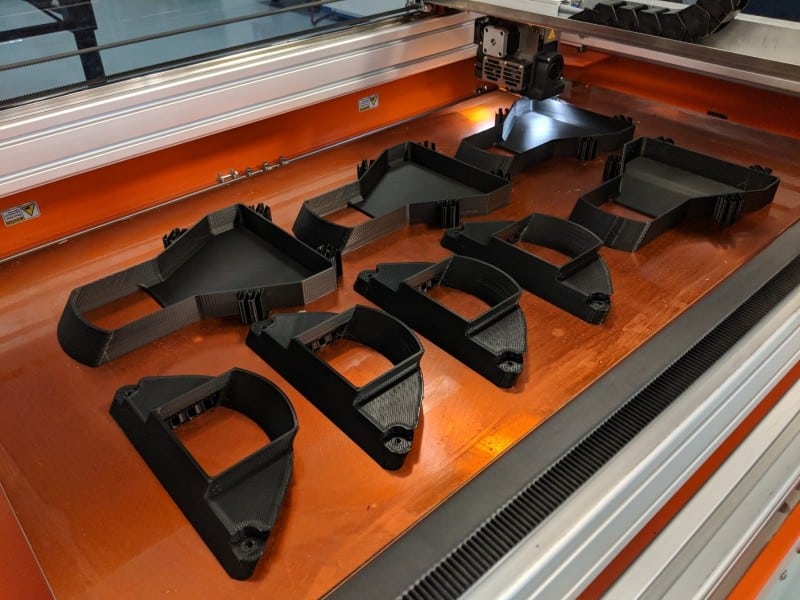 Air Duct in a Verizon Kiosk in the NCY Subway by Boyce Technologies
Immediate Iterations
How often do you design the perfect product the first time? It's almost impossible. As engineers, our job is to iterate and improve upon designs to maximize functionality, aesthetics or any other requirement. Occasionally referred to as rapid prototyping, 3D printing has become the obvious tool selection for most product development companies who are bringing products to market. For reference, the average new product development lifecycle timeline is about five months for consumer products.
This further demonstrates that the competition is constantly innovating and it's up to the engineering team to identify cost effective ways to get to market faster. One way is with large format 3D printing and the overnight production of multiple parts, assemblies, ideas and product iterations on a single build platform.
Conventional manufacturing methods are limited when it comes to the automation of multiple parts in a single process, and typically requires multiple days of setup time, labor, post processing, etc. Imagine printing multiple variations of your prototype, functionality testing them and having a verifiable design by the end of the week
.
3D Printed Water Scooter by Jamade
Conclusion
Size is relative. What works for you may not work for someone else, so it's always important to conduct your own research. The 3D printing marketplace is full of complicated technologies, so understanding the positives and negatives can become quite challenging.
When it comes to determining what size platform works for you, we invite you to consult with one of our experts. With close to a decade's worth of experience providing technology solutions and a long list of satisfied customers, we feel confident in our ability to point you in the right direction.

Written by BigRep
BigRep develops the world's largest serial production 3D printers, creating the industry benchmark for large-format additive manufacturing. Our award-winning, German-engineered machines are establishing new standards in speed, reliability and efficiency.