Markforged is bringing industrial production to the point of need. We've spent the last decade building an additive manufacturing platform that brings real value to factory floors.
Not only have we built printers that can replace machined metal with strong composites; we've made the process of getting parts for demanding factory applications simple, reliable, and cost-friendly. Building on this success, we're leading the next-generation of composite 3D printing with FX10 — an impressively versatile factory floor solution designed to print strong, precise parts.
Read this blog to learn about FX10, the challenges we developed FX10 to solve, and how its premium capabilities can drive value for manufacturers of all sizes.
What is FX10?
FX10 is our next-generation industrial composite 3D printer. It's the larger and faster follow-up to our popular X7 Industrial Series printer, which has brought strong parts — along with massive ROI — to thousands of factories worldwide.
FX10 is big, fast, and highly automated. With a modular, fifth-generation composite system, its printing process is more accurate and reliable than ever. Along with FX10, we will continue selling the X7.
Key Features:
Large build volume with heated chamber and print bed
Patented Continuous Fiber Reinforcement (CFR) process can print composite parts strong enough to replace machined metal
Accurate, high-speed printing (about twice as fast as the X7)
Laser micrometer that scans parts during printing for quality assurance and machine calibration
Vision module (coming in the future) will determine and optimize printer performance, while providing insights into the machine's health
User-friendly printing experience that combines a simple interface with automated features — such as spool changeover for continuous printing and machine calibration
Modular print system with easily swappable system components for additional print modes and material compatibility in the future




Why Did We Make FX10?
We developed FX10 to quickly, cheaply, and reliably solve a wide range of problems on the manufacturing floor. FX10 makes the process of printing critical parts on the factory floor as smooth and painless as possible.
Factory floors are dynamic, fast moving environments that require quick solutions to tool up, change over, and maintain. However, obtaining machined parts is often expensive, requires skilled labor, and can take anywhere from weeks to months. As a result, overdependence on traditional manufacturing methods can stifle the speed of iteration, eat into budgets, and ultimately render factories susceptible to unnecessary periods of extended downtime.
Many additive manufacturing solutions are touted to solve this challenge in theory. However, typical plastic 3D printers do not yield required levels of accuracy and repeatability, let alone the requisite strength and quality for industrial usage.
While our previous generations of carbon fiber 3D printers introduced a fast, cost-effective way to replace machined parts, we worked to develop a printer that's both more capable and more usable. Using FX10, it's easy and efficient to supercharge your factory's profitability and productivity:
Slash part costs by up to 90%, while bringing lead times from months to days
Boost production yields while decreasing operating costs
Reduce physical inventory through secure, cloud-based digital inventory
Keep your production lines running with on-demand spare parts

Print Large Parts Fast
Equipped with a 375mm x 300mm x 300mm build volume that can reach up to 60℃, the FX10 is nearly twice as large as its predecessor, the X7. It is capable of printing up to twice as fast.
Stop paying premiums and waiting weeks to get individual parts machined. Print a wide range of industrial parts on-demand — it's much faster and more cost-effective.


Refined Carbon Fiber Printing Process
Would you trust any plastic 3D printer to print parts that are strong and durable enough to put to work on your production lines? Beyond strength, how many 3D printers can consistently achieve the precise accuracy you need?
FX10 raises the bar for scalable composite printing: it combines Markforged strength and durability with a system engineered for precision and reliability. The motion system maintains accuracy even while printing at high speeds.

Verifiable Accuracy: Printhead-mounted Optical Sensors
While additive manufacturing opened the door for major cost savings and process improvements, it's hard to make it the foundation for large-scale manufacturing processes without repeatable, verifiable accuracy.
How can you know with certainty that your 3D printed parts meet their tolerance requirements? FX10 will include two optical sensors that provide visibility into part quality and printer health.
The laser micrometer scans parts during printing and assists with machine calibration. Scan data is interpreted using our Inspection software for dimensional verification, providing users with quality assurance as soon as a print finishes.
During calibration, the laser scans precision-machined grooves on the print bed and automatically compensates for error, increasing machine accuracy.
The vision module (coming soon) will capture detailed images of calibration parts to determine and optimize the printer's performance, while providing visibility into printer health.
An example of what the FX10 vision module will see

Boost Productivity With a Highly Automated, User-Friendly Experience
The average 3D printer isn't very user-friendly. Without close attention from a dedicated operator, it isn't very productive either.
While FX10 is a 3D printer with advanced capabilities, it's simple to use with highly automated workflows that unlock greater productivity while requiring less human intervention:
Automatic spool changeover between storage bays enables continuous printing. You can load multiple spools before a print to unlock builds that use larger amounts of material.
Automated machine and pre-print calibration routines ensure consistent print quality regardless of operator.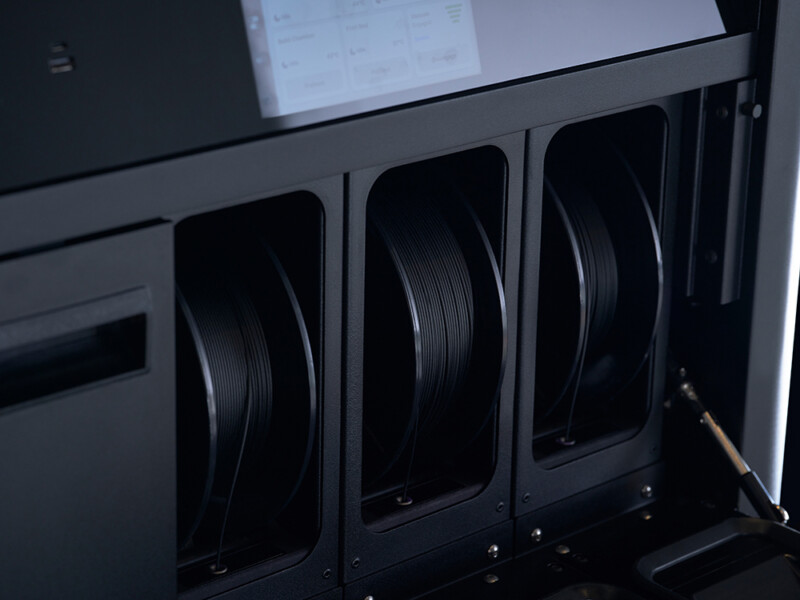 A material chamber contains built in, individually sealed storage bays for up to four 800cc spools.
Digital Inventory Reduces Holding Costs
Physical inventory is expensive and time-consuming to maintain. But historically speaking, maintaining large stocks of spare parts has been the only reliable way to avoid downtime.
Today, digital inventories empower you to maintain responsiveness to line down events without spending heavily on inventory management. You can store part designs as digital inventory in our secure, cloud-based Eiger™ software — and simply print them as needed. Digital inventory can free capital tied up in inventory and prevent it from wasting valuable warehouse space.
However, successful execution of digital inventory operations demands the right 3D printing platform. FX10's ability to consistently produce strong, quality parts fast — with verifiable results — makes the digital inventory model smooth for manufacturers with stringent quality requirements and no room for error.
Future-Proof Printing: Modular Print Architecture
Future-proofing is critical for our mission of developing the most versatile factory tool for production at the point of need
With upgradeability in mind, we built FX10 with a flexible machine architecture. Its system components are easily swappable, which leaves room for additional print capabilities in the future.


The Bigger Picture: FX10 and the Digital Forge
Building the foundation for efficient additive manufacturing processes goes beyond the 3D printers themselves. Markforged has built a holistic additive manufacturing platform designed to maximize the value and utility FX10 can bring to your factory floor:
Enterprise-friendly software: typical 3D printers are not designed to fit into existing manufacturing workflows, which limits their potential business impact. Markforged Eiger software makes it easy to easily manage your printers, users, and integrate our technology into your MIS and other business systems. In demonstrating cloud security expertise and a commitment to securing customer data, Markforged became the first additive company to receive ISO/IEC: 27001 certification.
Simulate part performance: while part failures are too devastating to risk, consistently overbuilding parts leads to manufacturing inefficiencies without guaranteeing performance. Simulation software predicts and optimizes the performance of printed parts. This feature verifies existing design performance and optimizes print settings for strength, weight, or cost — eliminating the need to overdesign parts.
Automate quality control: Inspection software offers rapid quality control, automatically scanning builds while they print to verify key dimensions. FX10's printhead-mounted laser micrometer gives precise guidance around user-defined tolerances and automatically generates scan reports with clear pass/fail analysis.
Additive skill development made easy: FX10 offers a simple workflow for printing strong parts. When paired with Markforged University, engineers unfamiliar with 3D printing have a quick path to additive design expertise.
---

Written by Markforged
Markforged is transforming manufacturing by addressing 3D printing as a holistic problem. Their process innovations are only possible by a combined effort in advanced cloud computing, cutting-edge materials science, and industrial design.